Information for Participants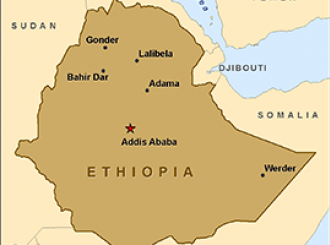 Immigration Requirements
Meeting participants need to obtain their visas from the Ethiopian Embassy or consulate from the country they reside or travel from.  Participants coming from countries that do not have Ethiopian embassies or consulates, the event organizer could get in touch with Ethiopian authorities to process visas on arrival.  Please note that an Ethiopian visa costs US$ 30.00 per person for meeting participants and $40 for journalists and the payment must be made either in US Dollars or in EURO at the time of issue. Holders of diplomatic and service passports as well as United Nations Laissez-Passer will receive visas gratis. Bank receipts for money changed at the airport must be kept securely as they may be asked for on departure.
Health Information for Conference Organizers and Participants.
General information on Ethiopia
Ethiopia is 2400 m above sea level and even higher in certain parts of the country. Being a country in Sub-Saharan Africa, a number of diseases are endemic but also limited to specific regions of the country.
Travelers to Ethiopia may experience what is called altitude (height) illness while in Addis Ababa. This is even worse for people who have specific health problems like chest diseases (asthma, chronic obstructive pulmonary disease, history of pulmonary embolism), heart diseases (heart failure, high blood pressure) etc. Pregnant women may experience some discomfort at high altitude.  The situation is very individualized and so should be examined on a case by case basis.
There are recurrent cases of water borne diseases (Typhoid, Amoeba, Acute Watery Diarrhea) among others that occur from time to time but this is very much dependent on personal hygiene. Malaria is present in the country but limited to the low land areas of the south where the altitude is below 2000m. This is not the case with Addis Ababa. Infectious diseases like measles, hepatitis A, B, and C, meningitis, HIV are also common and depend on the risky behavior practiced without adequate protection for some of the diseases.
The weather in Ethiopia appears friendly but the condition can change several times within the day from hot to cold. It is much colder than would be experienced in most of West, Central and North Africa. Warm dressing including cardigans/warm jackets is advised.
Travelers' diarrhea is present anywhere in the world and so is the situation with Ethiopia.
Advice to Conference Participants and other Travelers
Maintain proper individual hygiene with regular hand wash after using public facilities, avoid unnecessary handshakes. Cough into the elbows to avoid recontamination.
If you have any chronic health problem, make sure you take enough medication to last for the period of stay in Ethiopia as some of the medications may not be available on the local markets (diabetic, hypertension, cholesterol medications) etc.
Make sure you have some warm clothes in your luggage to respond to the changing weather.
Avoid eating uncooked foods prepared in public places (salads, fruits that cannot be peeled etc).
For acute health problems, UN Health Care Center (UNHCC) is available on a cost recovery basis. This means services will be provided and either the participant or the conference organizers will have to pay for depending on prior arrangements.
For conferences, for which the organizers would take charge of health issues of the participants, the modality of payments should be communicated in advanced to UNHCC.
For individuals hired as consultants for conferences, a brief medical report is necessary to clear their fitness to live and work in an area of high altitude and should be void of serious health problems. The clinic is not responsible for the cost of treatment in health facilities in the city if these are required.
For emergency situations, UNHCC can be reached from any hotel in Addis Ababa on the following telephone numbers: +251115443548 or +251 115445502.
For the 24hr/7 days emergency services conference organizers are requested to pay the sum of $1 per external participant per day  to cover nurses/doctors' services, transport and telephone calls to facilities or other specialists in the country and abroad, irrespective of whether the clinic is used or not.
Services Available at UN Health Care Center (UNHCC)
UNHCC is basically an outpatient health care facility but provides quite a good number of services as listed below;
Walk-ins clinic on a daily basis- consultations with Internists, General Practitioners.
 Consultations on appointment in the following fields:
Internal Medicine
Gynecology and Obstetrics
Pediatrics
Dental Care
Ophthalmology
Gastro-enterology
Psychiatrics/Psychology
ENT
Stress counseling
Radiology (X-rays and Ultra sounds)
24hrs/7days off duty hours coverage of emergency care
Ambulance services for transportation to city hospitals
 Short stay-in ICU
Pharmacy
Laboratory services
Contact numbers
Reception:  +251115443548/+251115445502
                  Mobile: +251929908433
                Secretariat: +251 115445828/+251115443524
                  Mobile: +251911508218/+251911221726/+251911201803/
                              +251968591093
Guidelines on personal security and safety
While personal security is an individual responsibility, the United Nations Security and Safety Service is always readily available to assist its clients. In this regard, the full cooperation of all participants is needed to ensure the safety of personal security and valuables.
Do the following while you are on the ECA premises:
Wear your conference badge visibly at all times and show it to any authorized person who asks to see it.
Do not leave bags and parcels unattended; they will be confiscated or destroyed.
Do not bring unauthorized persons and children into the Conference Centre.
Safeguard any valuable property.
Check that you have all your documents and personal items before you leave conference halls and meeting rooms.
Inform the Security and Safety Service or the nearest Security Officer if you lose any valuable items within the premises.
When you are in your hotel, please follow this safety advice:
 Upon entering or leaving your room, make it a habit to lock the door.
 Before leaving, inspect your room to make sure that no money, jewelry, cameras, etc. have been left exposed.
 Deposit valuables or portable items at the reception desk and obtain a receipt.    
Should you observe anything suspicious or out of the ordinary, please contact the nearest Security Officer.
Emergency numbers
United Nations Security Control Room – Addis Ababa (24 hours)
+251 0) 11 5 516537
+251 (0) 11 5 512945
+251 (0) 11 5 445555
Addis Ababa (City) Police: 991
+251 (0) 11 111 0111
+251 (0) 11 155 1200
Emergencies outside of Addis Ababa
United Nations Operations Centre (24 hours): +251 (0) 11 5 511726
Satellite phone: +87 16 254 6835
Police Emergency numbers (24 hours): 991
Federal Police: 916
+251 (0) 11 5 524077
+251 (0) 11 5 526302/03
Airline Reservations
A number of International Airlines operate to and from Addis Ababa. It is required that participants secure their return/onward air passage prior to their arrival in Addis Ababa. Ethiopian Airlines and Kenya Airways have offices on the ECA compound.
Furthermore, Gashem Travel and Airlink are the official travel agencies onsite at ECA to assist with re-confirmation of tickets and to provide participants with travel and tour related information.  Please have your ticket available when visiting the travel agencies to re-confirm flights. They are reachable at the following telephone numbers:
Gashem Travel Tel: +251 115 44 30 51/44 30 52/46 84 85 or 251 0911 25 04 68 (mobile)
Airlink Travel Tel. +251115444333/44366/44336 or 0921798128 (mobile)
Hotel Accommodation
In addition to accommodation costs, all participants will be responsible for other additional costs: i.e. breakfast (where not included) telephone, internet/fax, room service, mini-bar and laundry, meals (i.e. lunch and dinner) - and must pay these directly to the hotel at checkout. The following are hotels that are cleared by the ECA Protocol Office.
List of Hotels
Temporary Importation of Laptops and Other Conference Equipment
To comply with the import customs regulations of the Government of Ethiopia, conference participants should declare laptops and conference equipment they may carry with them when entering the country. A detailed specification of the items to be brought in, together with the arrival/departure details of the participant should be registered. The items will be registered for temporary import by the customs office and they should be taken out of the country after the conference.
Registration and Identification Badges
Participants will be required to register and obtain Identification Badges prior to the opening of the meeting. The venue for registration is at the Delegates Registration Bureau of the Economic Commission for Africa (ECA). For identification and Security reasons, Identification Badges should be worn by all participants at all times during the Conference and at official social functions.
Transport
Bole International Airport is located just 5 kilometers from the UNCC-AA. Based on initial arrangement, shuttle buses will be made available to ferry participants back and forth from hotels to the conference venue in the mornings and at the end of the daily sessions. Unfortunately, transport will not be provided during lunch breaks.  All lunch breaks will take place within the ECA compound.
If you would like transportation in Addis Ababa outside of conference time or to take you to the airport at the end of the Conference, you can call Ride (The Lucy Taxi) using their Call Centre 8294 or +251913135534.  The official rate per kilometer is 15Birr.  OR you can book a taxi from the National Tourism Organization (NTO) by calling + 251- 115 – 51 18 22 or + 251-115 - 51 84 00, OR take the yellow or blue taxis parked outside your hotel. 
ICT Services
The UNCC-AA is equipped with Wi-Fi and it is free of charge.  Technical support on other ICT services is available through the ECA Service Desk.  Technical support for presentations must be arranged in advance.
* Please be advised that Blackberry Services are not available in Ethiopia.
Restaurants in Addis Ababa
Here is a list of selected restaurants in Addis Ababa for your information:
Blue Drops
011-661- 5714
Between Bole Tele and Atlas Hotel, in front of Tsehay & Her Children Building
Known for: Pasta and Grilled food, open 7 days a week
Carnivore Addis
011-554-1330/31
From Meskel Sq. on the road to Bambis on the same building where Abyssinia Supermarket is located.
Known for: Grilled meat/Salad bar, open 7 days a week
Blue Tops 
011-123 -2463/64
Amist Kilo in front of the National Museum
Known for: Pizza and ice cream; Closed on Mondays
Jacaranda (Hilton)
011-551-8400 Ext.986
In the Garden Wing of the hotel
Known for: unique menu that continuously changes; Closed on Sundays
Hotel De Leopol
011-550-7777
Behind Bambis
Known for: Candlelight dinner, open 7 days a week
Les Arcades (Sheraton Addis)
011-517-1717 Ext.6604
Known for: Gourmet menu; Closed on Sundays
Kaffa House (Hilton)
011-551-8400 Ext. 962
In the main Lobby of the Hilton
Known for: Seafood, 7 days a week
New York
011-515-1243
Olympia, near Shoa Bakery.
Known for burger & pizza, open 7 days a week
Lime Tree
011-663-0872
On Bole Road, above Boston Day Spa, in front of Tana as well as near the UNCC-AA compound
Known for: Quick, fresh meals, salads, delicious desserts, open 7 days a week
Rodeo Bar and Restaurant
011-551-0294
On Bole Road, next to DStv.
Known for: BBQ on Thursdays, Fridays and Saturdays, open 7 days a week
Serenade Restaurant
091-120-0072
Near Master Printing Press Amist Kilo
Known for: Fine home-made food, dinner only; closed on Mondays and Sundays
Zebra Grill
011-662-3630
On 22 Road, next to Ruality Pastry
Known for: Grilled food , open 7 days a week
Ethiopian
Habesha Restaurant
011-551-8358
Bole Road, next to Sabit Bld.
Known for: Kwanta Ferfer and Bozena Shiro, open 7 days a week
Dashen Restaurant
011-552-9746, 011-552-6437
Behind the Main Post Office
Known for: Melasse tibs and live music on weekend nights, open 7 days a week
Fasika National Restaurant
011-550-9912 /
011-551-4193
Off Bole Road, in front of Sunshine Building. Known for: Enfele and live music, closed on Sundays.
Mobile Phones
Participants are encouraged to come to Addis Ababa with their dual band mobile handsets (900/1800 MHZ).  Ethiopian Telecommunication Company offers SIM Cards with pre-charged airtime.
General Information About Ethiopia
Climate
Ethiopia has two main seasons. The dry season lasts from October through May, and the rainy season starts in late June and ends in September. Temperature depend on season and altitude.
The weather is envisaged to be cold at night in November, so kindly carry a warm jacket/sweater.
ELECTRIC SUPPLY
Electric supply in Ethiopia is 220-240 volts, 50 cycles AC accessible via 13-amp, two-pin (Italian) socket.
Currency: Birr
Ethiopian currency is denominated in "Birr" and "centimes". The exchange rate fluctuates. The UN official exchange rate for a US Dollar for the month of January 2018 is Birr 27.5999..
There is a branch of the Commercial Bank of Ethiopia on the ECA compound, which is open Monday – Friday, from 8:00 a.m. to 4:30 p.m. There are also ATM machines for Visa/ Mastercard users at UNCC-AA and at the hotels, which will give you money in Birr.
Day Trip Destinations for Accompanying Guests
Day trip destinations could be organized for accompanying guests.   Here are a few suggestions of must-sees in Addis and in the outskirts of Addis:
The Holy Trinity Cathedral (it's said to be the largest cathedral in Africa)
Entoto:  Picturesque view of Addis Ababa.  There is a Church also worth visiting.  The Emperor Menilik was crowned there.
6 Kilo Monument:  This commemorates the thousand Ethiopians killed by Italians in reprisal for the attempt on the life of General Graziano.
The National Museum.
Melka Kunture (50 kilometers from Addis Ababa) has an interesting pre-historical legacy that manifests itself in the form of several stone tools and other rudimentary relics dating back to millions of years, which have been discovered here over a period of time.
Blue Nile Gorges:  Approximately 200 kilometers to the north of the city. The region is interspersed with quaint, photogenic villages and the celebrated 13th century Debre Libanos monastery that is dramatically nestled in a high canyon. There is also a Portuguese Bridge and a few rugged walking trails that offer a nice adventurous trek through the wilderness of the region. Watch several species of ingenious birds and mammals while wandering through the paths of Blue Nile. Drive further through the hills of the area to enjoy the striking scenery from the tip of the gorge.
Ankober:  The drive to Ankober offers visitors many breathtaking natural visuals of rough gravel roads and lush green hills to reach the stunning Kundi Mountain preening over the Great Rift Valley. Enjoy the trek through the surrounding Eucalyptus forests.