Overview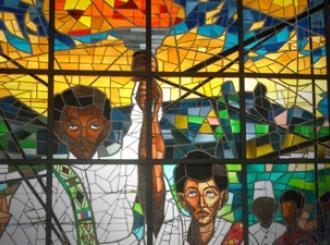 From ideas to actions for a better Africa
Who we are: 
Established by the Economic and Social Council (ECOSOC) of the United Nations (UN) in 1958 as one of the UN's five regional commissions, ECA's mandate is to promote the economic and social development of its member States, foster intra-regional integration, and promote international cooperation for Africa's development.
Made up of 54 member States, and playing a dual role as a regional arm of the UN and as a key component of the African institutional landscape, ECA is well positioned to make unique contributions to address the Continent's development challenges.
---
ECA's strength derives from its role as the only UN agency mandated to operate at the regional and subregional levels to harness resources and bring them to bear on Africa's priorities.

ECA's Core Functions:
The contribution by ECA to the task of carrying forward the 2030 Agenda and Agenda 2063 is centred on the Commission's three core functions, namely, its convening function, its function as a think tank and its operational function, as articulated below:
(a)    Convening function: providing dedicated regional intergovernmental and multi-stakeholder platforms with strong ownership by member States, regional bodies and development banks that result in agreed development policy frameworks, standards and action plans that reinforce multilateralism at the regional and subregional levels;
(b)    Think-tank function: conducting multisectoral research and analysis that nurture the integration of the three pillars of sustainable development, and promote peer learning, innovative thinking and the advocacy of public policies while fostering intersectoral linkages and synergies;
(c)     Operational function: provision of policy advice at the country level through direct demand-based support to member States in areas related to its normative and analytical work and in collaboration with the United Nations system at the country level.
ECA's mission, objective and strategic directions
Our mission is to deliver ideas and actions for an empowered and transformed Africa; informed by the 2030 Agenda and Agenda 2063. The mission is guided by ECA's five new strategic directions which are:
(a) Advancing ECA's position as a premier knowledge institution that builds on its unique position and privilege to bring global solutions to the continent's problems and take local solution to the continent;
(b) Developing macroeconomic and structural policy options to accelerate economic diversification and job creation;
(c) Designing and implementing innovative financing models for infrastructure, and for human, physical and social assets for a transforming Africa;
(d) Contributing solutions to regional and transboundary challenges, with a focus on peace security and social inclusion as an important development nexus;
(e) Advocating Africa's position at the global level and developing regional responses as a contribution to global governance issues.
ECA is headed by an Executive Secretary, who is assisted by two Deputy Executive Secretaries.