COVID-19 Crisis in North Africa: The Impact and Mitigation Responses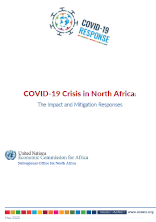 North African economies are hardly hit by COVID-19, induced by the lockdown measures which had negative impact on the supply and demand sides, and the drastic reduction of world demand, fueling a drop in North Africa exports. Spurred by the 50% drop in oil prices and the lockdown, Algeria's GDP could fall between -4.5% to -5.8% in 2020. Morocco and Tunisia, whose economies have been severely hit by the drop in tourism and demand from the EU, may experience a GDP growth respectively of -3.7% and -5%. Overall, North Africa will see its growth decline to -1.8% for 2020, while its full-time equivalent employment loss may reach 5 million in 2020.
Economic recovery of the sub region is expected to start in 2021, assuming there is no relapse of the pandemic. The recovery, expected for 2021, is conditioned on the success mitigation measures currently being implemented by governments. Some countries of the sub region, with marked dependency on tourism-related activities (transports, catering, hotels, etc.), will see their recovery path delayed as the containment measures will last for longer periods.
With strong and probably long-lasting impact on employment and health, the pandemic could compromise the results achieved by the sub-region in the recent years in the area of Sustainable Development Goals (SDGs), leading to higher levels of poverty and inequality.