Africa Regional Integration Index - Report 2016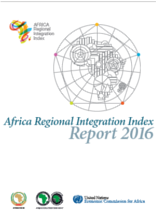 Regional integration is a development priority for Africa. All Africans, not just policy makers and decision makers, have a role to play in making integration a reality for the continent.
Integration matters in Africa. It affects what people can buy; the variety of what is on offer at the local market; how easily citizens move between countries; where individuals travel for leisure or for work; how cost-effective it is to keep in touch;where people choose to study or look for a job; how to transfer money to family or get start-up capital for a business.