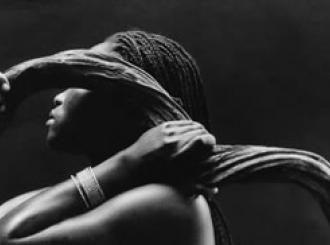 Abuja, 30 March 2014 (ECA) - The ECA/AU Joint Conference of Ministers of Finance, Planning and Development organized for the first time, an art exhibition by internationally acclaimed photographer and author, Angèle Etoundi Essamba.
The exhibition was opened to much public acclaim on Saturday, 29 March by Mr. Carlos Lopes, Executive Secretary of the Economic Commission for Africa (ECA), accompanied by Madame Nkosazana Dlamini Zuma, Chairperson of the African Union and Mr. Jan Eliasson, UN Deputy Secretary General.
The collection of 28 stunning photos by Ms. Essamba mainly portrayed women around the theme of identity and diversity in a contemporary and rising Africa. The photographic exhibition provided an artistic interpretation of the question of gender in the context of the Conference's core questions of how to transform African economies and provide jobs through industrialization.
"The work is breathtaking," noted many participants, who lauded the Camerounian artist for breaking the stereotypical representation of African women, who are often, either "commodified and eroticized" on the one hand, or dehumanized through images of poverty and powerlessness. "The industrialization pathway is also about breaking and challenging gender stereotypes; art serves as a tool to tell that story in a powerful manner," agreed participants.
The photographic display conveyed messages of strength, pride and awareness. The observant Ms Essamba, whose work has been exhibited in museums, institutions and galleries across Africa, Europe, United States, Latin America and the Arab Emirates, underlines subtlety and elegance. "The women are creative and sharp, surprising and colourful," she said.
Participants were pleasantly surprised to discover one of Cameroun's finest; and acknowledged her as 'a rare gem.'
More: http://essamba.com/


Issued by:

ECA External Communications and Media Relations Section
PO Box 3001
Addis Ababa
Ethiopia
Tel: +251 11 551 5826
E-mail: ecainfo@uneca.org
www.uneca.org