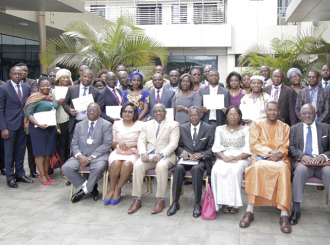 Yaounde, 17 October 2019 (ECA) – Scores of policy and programme planners, statisticians and other national professionals say they have gained considerable insights into ways of optimising their work by routing key accountability factors into Cameroon's development planning processes, following an eight-day workshop convened by the UN Economic commission for Africa (ECA) in Yaounde.
Sponsored by the United Nations Department of Economic and Social Affairs (UN DESA) and rolled out by the Macroeconomic and Governance Division of ECA, the just ended workshop, is part of a comprehensive UN Development Account Tenth Tranche Project aimed at beefing up the know-how of governments across five African pilot countries for integrating accountability in development planning.
Aside from Cameroon, the four other countries benefiting from this situational analysis, strategy development and knowledge-sharing package are: Benin, Egypt, Kenya and Zambia.
The Yaounde workshop teased out the dual relationships of accountability in development, viz.: 'downward' accountability of higher levels of government in response to the needs of communities, and 'upward' accountability of lower levels of government in implementing and monitoring national development visions and targets.
The conversations zeroed-in on the need for quality data, hence evidence, to inform planning decisions; inclusive planning methods which involve various segments of society in identifying development needs and actions; budgeting in a challenging financing climate; developing institutional capacities; going all-out for transparency; achieving optimum value for resources spent; creating impact; and monitoring and evaluating development programmes.
While expressing gratitude to the UN for initiating this tenth development account project on behalf of all workshop participants for the fresh new perspectives from the workshop, Mr Eone Laurent of Cameroon's Ministry of Economy, Planning and Regional Development (MINEPAT), displayed a fine understanding of the benefits of accountability in development planning.
He summarised these as: "improved quality in terms of design and implementation hence, rendering plans, policies, programmes and projects more relevant; improved relations with beneficiary populations; and reduced risk of fraud or misuse of funds."
Mr Eone also re-echoed participants' call for the workshop to be extended to local governing bodies in Cameroon.
Speaking on behalf of Mr Paul Tasong – Minister Delegate at MINEPAT, Mr Charles Azola Azola who is Inspector General in charge of evaluating the performance of services at MINEPAT described the just-ended workshop as "a good opportunity for Cameroon."
"This training could be capitalised-on in light of the work we are currently doing on the conceptualisation of a new strategic framework to serve as a relay for our Growth and Employment Strategy Paper and for accelerating Cameroon's towards emergence," he pointed out.
Meanwhile, Mr Alassane Ba – who represented the Resident Coordinator of the UN System in Cameroon called on the beneficiaries of the workshop to consider accountability in planning as a critical ingredient for actualising Cameroon's 2035 development vision.
The coordinator of the Project – Mr. Sylvain Boko who is Principal Regional Adviser for Development Planning at ECA insisted on accountable development planning to create real impact.
"Accountability is not a trifling matter," he argued.
"It requires constant monitoring of our behaviour as managers and decision-makers and our responsibility to the people we serve in the context of the management of public resources.
"I therefore call on the Cameroonian authorities and particularly MINEPAT for the establishment of a verifiable and measurable monitoring mechanism of the achievements and recommendations of this training."
-END-
Media Contact
Abel Akara Ticha - Communication Officer
United Nations Economic Commission for Africa
637, rue 3.069, Quartier du Lac, Yaounde
Tel: 237 222504348
E-mail: akara@un.org