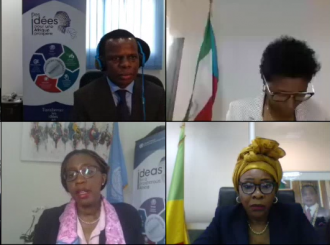 Yaounde, 15 November 2020, (ECA) – A timely call to observe the years 2021 to 2030 as The Decade for Economic Diversification in Central Africa has been squarely heeded to by senior state officials across the sub-region led by the Minister of Planning, Statistics and Regional Integration of the Republic of Congo – Ingrid Olga Ghislaine Ebouka-Babackas.
The declaration, issued in an address by the Minister and presented by her Chief of Staff Mr. Ferdinand Sosthène Likouka, Thursday, wrapped up the 36th session of the Intergovernmental Committee of Senior Officials and Experts of Central Africa (ICE) which ran from 11 to 12 November 2020. It was held under the theme: "Building skills and competences for economic diversification in Central Africa."
A motion for the Decade for Economic Diversification had been made at the opening of the ICE session by United Nations Under-Secretary General and Executive Secretary of ECA, Vera Songwe.
She had posited that any effective and inclusive skills development framework can only be conceived in a partnership between the State, professional associations, trade unions, companies, and development partners.
Such a system "should be supported by a demand-based approach thus allowing the private sector to participate in the definition and provision of training as well as in the accreditation, financing and evaluation of related programs."
Establishing this decade alongside the UN Decade of Action to deliver the SDGs, Ms. Songwe had argued, would provide the umbrella under which actors would operate with a common vision for achieving economic diversification in Central Africa pivoted on a skills overhaul.
"The call for this Decade challenges us on the need to accelerate the implementation of sustainable solutions to the major challenges facing Central Africa and the world, from poverty to climate change, from inequality to bridging the financial gap," noted Minister Ebouka-Babackas of the Republic of Congo.
The Minister intimated that "the COVID-19 pandemic, which has slowed down economic activity worldwide, provides us with an opportunity to reassess our priorities and better rebuild and diversify our economies by adopting sustainable and inclusive consumption and production patterns that are resource-efficient and climate-resilient in all sectors of the economy."
High-level panellists and debaters during the ICE meeting, all subscribed to the ideals for building back and forward better.
Cameroon's Mines, Industry and Technological Development Minister, Gabriel Dodo Ndoke said "there should be a shift from the education for an extractive, rent-seeking system to one that prepares learners for a transformative productive system; second, we should design training curricula for job creation and entrepreneurship rather than for creating bureaucrats and job-chasers."
Antonio Pedro, Director of ECA's Subregional Office for Central Africa (SRO-CA), organizer of the ICE, submitted that "Building back better and the clean energy transition will be resource-intensive, providing unique opportunities for Central African countries to use their massive endowments of the key resources (e.g. cobalt, manganese, solar irradiation") that can enable the transitions as a bargaining chip to foster technology transfer and acquisition,  drive resource-driven industrialisation, and, ultimately, rise-up in relevant global chains, thus contributing to a greater retention of wealth in the sub-region".  
"This requires strengthening negotiation capacity of our member States and fostering a linkages development programme anchored on the implementation of smart local content policies, including using foreign direct investment and national suppliers' development programmes as tools to industrialise the region and create a strong and competitive SME sector", Pedro noted.
He called on local captains of industry to seize the opportunities offered by the African Continental Free Trade Area (AfCFTA) to usher an inward-looking development agenda, a case that COVID-19 made abundantly stronger.
ILO's Senior Economist, Irmgard Nübler, mooted for a change in mind-sets and subscription to strong work ethics and the certification of apprenticeship in order to build skills and innovate for economic diversification.
ECA Economist Jean Luc Mastaki harped on promoting innovation and facilitating access to technology especially for SMEs and the informal sector, the harmonising training policies, standardising certificates and easing the mobility of skills across countries of the subregion.
Germany-based computer science engineer from Cameroon, Augustine Mofor, spoke of the paramount importance of governance for harnessing the savoir-faire of experts of the subregion in the diaspora for economic diversification in Central Africa. 
Other high-level speakers who contributed to the ICE debates included: University of N'Djamena professor of electronic engineering,  Amir Moungache;  Congo's DG of Economy, Franck Corneille Mampouya M'Mbama – who officiated in lieu of Minister Ebouka-Babackas as the new ICE Chair, Advisor to Equatorial Guinea's Minister of Economy and Finance, María del Mar Bonkanka Tabares; ITU's Central Africa and Madagascar Area Representative, Jean-Jaques Massima-Landji; Cameroon's Director of Professional Training, Ibrahim Abba; Equatorial Guinea's Development Agency CEO, Bindang Ndong Okiri and iCUBEFARM HR gateway's CEO, Yolanda Asumu; amongst others from all ECCAS member States.
Delegates adopted "Fostering leadership and transformational change for economic diversification in Central Africa" as the theme for the 2021 ICE meeting. The choice of this theme is informed by the theory of change for economic diversification in Central Africa developed by SRO-CA to provide a coherent conceptual framework for the operationalisation of the Douala Consensus of 2017.
-ENDS-
Media Contact
Abel Akara Ticha - Communication Officer
United Nations Economic Commission for Africa
637, rue 3.069, Quartier du Lac, Yaounde, Cameroon
Tel: +237 222504348
E-mail:  akara@un.org