Publications Catalogue – 2020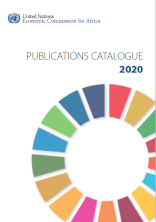 Welcome to the 2020 edition of the ECA Publications Catalogue. This year's Catalogue features reports and studies that will be made available over the course of the year.
Suggested covers for the 2020 publications are for thematic purposes only; as actual covers will be made available as they are issued. It is however worth mentioning that after several months of collective efforts, in October 2016, the Commission launched a comprehensive brandbook to project the striking features of ECA's personality. In translating this effort towards consistency and standardization, all the 2020 publications of ECA will reflect this easily recognizable brand identity.
In addition to multimedia resources, publications are available in print and also in digital format on our website for immediate viewing or download. The publications – which include the Economic Report on Africa, our flagship publication – represent the work of ECA and cover a wide range of thematic areas forming part of the transformative development agenda for the renaissance of Africa. More specifically, the publications capture the work ECA does to monitor Africa's economic
growth, understand megatrends and their implications for African economies, and promote the rise of emerging economies, and promote the rise of emerging economies.
The current clustering is undertaken for each category of deliverables in 2020 based on the Annual Programme Plan and submissions received from the various subprogrammes.