Facilitating Cross-Border Trade Through a Coordinated African Response to Covid-19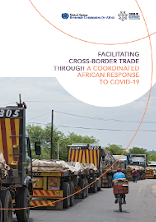 The coronavirus disease pandemic, while above all a public health crisis, has presented the African continent with unprecedented economic challenges. In order to contain cross-border transmission of the virus, countries have introduced various restrictions to cross-border and transit freight transportation.
Almost all African countries have now to a differing degree suspended international flights, introduced 14-day quarantine for entrants into the country, and closed land or maritime borders. As demonstrated in table 1, 38 of Africa's 54 countries have announced land closures in some form, and 17 countries have announced maritime border closures. Under a set of strict regulations, these closures are targeted at reducing the movement of people while allowing exemptions for the movement of emergency and essential freight supplies. Such regulations typically cover mandatory testing, sanitizing trucks, limiting the numbers of crew members on trucks, and designating transit resting areas.