African Women's Report 2009
Measuring Gender Inequality in Africa: Experiences and Lessons from the African Gender and Development Index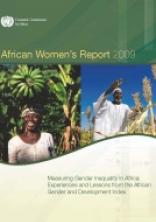 The African Gender and Development Index as a Tool
Built around international consensus and a review of existing global indices, the UNECA designed the African Gender and Development Index (AGDI) to facilitate the monitoring of Africa's progress in the implementation of global, regional and sub regional commitments affecting women.
Using both qualitative and quantitative means of data collection and analysis, the framework for measuring gender inequality under the AGDI is broadly classified into three "blocks" which reflect the totality of human development. They are the social block (capabilities), comprised of education and health issues; the
economic block (opportunities) assessing access to productive resources; and the political block (agency) dealing with women's representation in decision-making in public and civil society arenas.