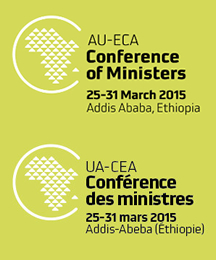 Title
2015 Conference of Ministers
The 8th Joint Annual Meetings of the African Union Specialized Technical Committee on Finance, Monetary Affairs, Economic Planning and Integration and the ECA Conference of African Ministers of Finance, Planning and Economic Development
25 March 2015
to
31 March 2015
The Eighth Joint AUC-ECA Annual Meetings of the AU Conference of Ministers of the Economy and Finance and ECA Conference of African Ministers of Finance, Planning and Economic Development will take place from 25-31 March 2015 in Addis Ababa, Ethiopia. The Conference will tackle the theme, Implementing Agenda 2063 - Planning, Mobilizing and Financing for Development in a Ministerial segment from 30-31 March 2015, which will be preceded by an expert's segment from 25-27 March.
The Conference will be held against a backdrop of intensive activities leading up to the MDGs 2015 deadline and the global negotiations on the post 2015 development agenda.
In 2013 the Joint Conference focused on industrialization for Africa's emergence, and shifted attention in 2014, to inclusiveness and transformative development for Africa. A call was made to African countries to adopt dynamic industrial policies with innovative institutions, effective processes and flexible mechanisms to transform their economies to bring about inclusive and sustainable economic and social development.
The format of the Conference will comprise intellectually stimulating plenary sessions, as well as round table debates and side events intended to deepen discussions on the theme. The Conference will also feature the inaugural lecture for the Annual Adebayo Adedeji Lecture Series, launched in Abuja in 2014 and the launch of the annual Economic Report on Africa, which tackles the theme of trade and industrialization.