Women's Health in Ethiopia: Facts & Figures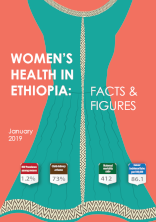 Healthy population is essential to achieving an empowered, inclusive and transformed Ethiopia, leaving no one behind. This powerful linkage between women's health and development is valid worldwide.
Ethiopia has made strides especially in addressing maternal mortality, which has been halved between 1990 and 2010. However, the current mortality rate, 412/100,000 is far from the SDG target of 70/100,000 by 2030. In addition to women's structural health issues, breast and cervical constitute the most prevalent cancers in Ethiopia, among the entire adult population.
Having accurate statistics on women's health is essential to formulating and implementing the right mix of policies and programmes to meet their health needs.
This brochure provides insights into women's main health issues in Ethiopia e.g. reproductive health; breast and cervical cancer; violence against women and girls, because of the related health issues and HIV/AIDS. It outlines the trend in women's health care, the inequality in access to health services based on location and socio-economic status.
The brochure is made up of infographics to provide quick, simple yet compelling insights into women's major health needs in Ethiopia along with self-contained messages on the latter.