Transforming African economies through smart trade and industrial policy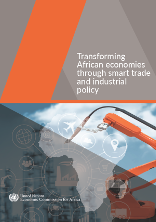 In the 2015 Economic Report on Africa of the Economic Commission for Africa, a clear case was established for the increased and improved use of trade and trade policy as tools to drive the continent's industrialization. The present report builds on the recommendations of the report through a thorough assessment of what is required of African economies to industrialize smartly through trade. The assessment is informed by an analysis of whether current trade policies and tariff structures positively contribute to Africa's broader industrialization policy.
The remainder of this summary provides an overview of the content, key messages and policy recommendations of the report. The recommendations are targeted at African policymakers and provide important insights for international donors, academia, Africa's trading partners, the private sector, civil society and others with a stake in Africa's industrialization through trade.