Towards improved access to broadband Internet in support of Africa's transformation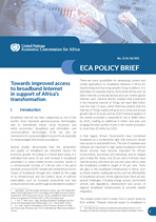 African Governments have considered broadband as a fundamental right that everyone should have access to and benefit from. The role of hardware and software are important in high-speed broadband Internet whose services have become important for African Governments, businesses and individuals, and an integral part of daily life. Today, only 20 per cent of Africans have Internet access, and there are only two years left to meet the broadband conditions target of 50 per cent. There are gaps in the broadband infrastructure in Africa, such as slower speeds, inadequate access and low affordability to broadband services. At the regional level, there are also several challenges, including energy access, harmonized policies and regulations, development and access of regional broadband infrastructures to promote market integration.

The present policy brief is drawn from a recent study by ECA entitled "Towards improved access to broadband in Africa". It summarizes the evidence on broadband access in Africa and provides key policy recommendations for consideration by African policymakers and decision makers. It is hoped that it will contribute to explorations of how best to build up broadband infrastructure on the continent and thus make broadband services easily accessible and affordable to citizens and firms.