The Role of Parliament in Promoting Good Governance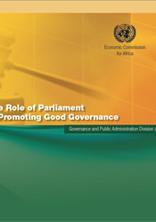 In the 21st Century, there is growing interest more than ever before in issues related to democracy and good governance around the world. This is a reflection of the increasing acceptance of the fact that democracy and good governance are not a luxury, but a fundamental requirement to achieve sustainable development. Parliaments as one of the key state institutions in a democratic system of governance have a critical role to play in promoting democracy and good governance. As the democratically elected representatives of the people, parliaments have the honorable task to ensure government by the people and for the people. In the performance of their key functions of legislation, representation and oversight parliaments can actively engage in the development and implementation of laws, policies and practices that promote democracy and good governance.

This study attempts to analyze the contribution parliament can make to promote good governance and consolidate democracy in Africa. It focuses on the representational role of parliament thereby examining how parliaments respond to the growing public pressure for greater involvement, information, accountability and better service delivery to citizens. It illustrates the different options that parliament can use to better engage with the citizens to fulfill its role of representation. The paper uses examples, innovations and experiences from selected countries around the globe to show how parliamentary representation is evolving, how parliaments are responding to citizens expectations and how the representational role of parliament can be strengthened so that citizen can actively and efficiently participate in decision making processes through parliament.