Migration in North African Development Policies and Strategies: A Comparative Analysis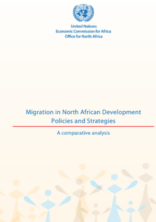 This study falls within the framework of the initiative of the Economic Commission for Africa (ECA) and the International Organization for Migration (IOM), and aims to assess measures adopted by the African States to integrate international migration into their development plans and strategies.
The ECA works in close partnership with IOM and other partners to support the efforts of the Member States to face the increasing migration challenges. This sub-regional report addresses the political decisions taken at the national level by six countries in the sub-region of North Africa (Algeria, Egypt, Morocco, Mauritania, Sudan and Tunisia), with a view to assess how international migration-related issues are taken into account.
This study will provide key information on the sub-regional situation, and will be an advocacy instrument for decision-makers, politicians, planners, researchers and other strategic actors in the field of migration in North Africa, to boost the contribution of international migrations to the sub-region's economic and social development.