Institutional Architecture to Address Illicit Financial Flows from Africa
A Primer on The Premier Economic Governance Report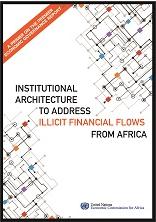 Africa is losing significant resources through illicit financial flows (IFFs), conservatively estimated by the 2015 report of the High-Level Panel on IFFs from Africa at $50 billion a year. The $50 billion loss, expressed in terms of the resources Africa needs to meet its SDGs, would be equivalent to:
• Three quarters of the estimated health financing gap of $66 billion a year for Africa to make significant progress on SDG 3 on good health and well-being.
• One and a quarter times the annual education spending required over 2015–2030 to achieve SDG 4 on inclusive education in Africa, estimated by UNESCO at $39 billion a year.
• One-third of the additional $130–170 billion Africa needs annually to fund infrastructure projects.