Illicit Financial Flows
Report of the High Level Panel on Illicit Financial Flows from Africa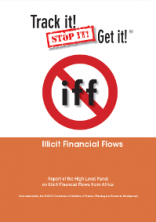 The 4th Joint African Union Commission/United Nations Economic Commission for Africa (AUC/ECA) Conference of African Ministers of Finance, Planning and Economic Development was held in 2011. This Conference mandated ECA to establish the High Level Panel on Illicit Financial Flows from Africa. Underlying this decision was the determination to ensure Africa's accelerated and sustained development, relying as much as possible on its own resources.
The decision was immediately informed by concern that many of our countries would fail to meet the Millennium Development Goals during the target period ending in 2015. There was also concern that our continent had to take all possible measures to ensure respect for the development priorities it had set itself, as reflected for instance in the New Partnership for Africa's Development. Progress on this agenda could not be guaranteed if Africa remained overdependent on resources supplied by development partners.
In the light of this analysis, it became clear that Africa was a net creditor to the rest of the world, even though, despite the inflow of official development assistance, the continent had suffered and was continuing to suffer from a
crisis of insufficient resources for development.
Very correctly, these considerations led to the decision to focus on the matter of illicit financial outflows from Africa, and specifically on the steps that must be taken to radically reduce these outflows to ensure that these development resources remain within the continent. The importance of this decision is emphasized by the fact that our continent is annually losing more than $50 billion through illicit financial outflows.