How COVID-19 is changing the world: a statistical perspective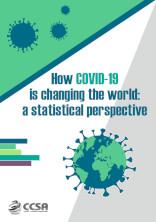 COVID-19 has turned the world upside down. Everything has been impacted. How we live and interact with each other, how we work and communicate, how we move around and travel. Every aspect of our lives has been affected. Although the world is in lockdown, governments, epidemiologists, school principals, entrepreneurs and families around the world are already planning the next steps: how to safely reopen schools and businesses, how to commute and travel without transmitting or contracting infection, how to support those most affected by the crisis – the millions who have lost their livelihoods or their loved ones, how to ensure the already serious inequalities don't deteriorate further.
Decisions made now and in the coming months will be some of the most important made in generations. They will affect people all around the world for years to come. It is imperative that governments making those decisions have access to the best information available. Throughout this crisis, the international statistics community has continued to work together, in partnership with national statistical offices and systems around the world to ensure that the best quality data and statistics are available to support decision making during and after the crisis. This report gives a small flavor of that cooperation. It has been compiled jointly by 36 international organizations, under the aegis of the Committee for the Coordination of Statistical Activities (CCSA).