Guidelines for Developing an Integrated User Engagement Strategy for National Statistical Systems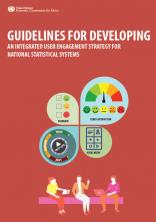 As an important public good in democratic societies, official statistics have to meet the needs of users. To meet the test of practical utility, statistics must be relevant, of suitable quality and in a form that facilitates easy and correct use. The key to achieving this is maintaining an understanding of user needs. Producers of official statistics must regularly consult users using appropriate channels and means of communication because needs change and different users respond to different engagement methods.
These guidelines offer a practical mix of good and common practices, instructions, tips and background needed to conduct a dialogue with users and identify what they need and when and through what medium they need it. They provide guidance for developing robust and strategic user engagement programmes and propose sample tactics and activities for a well thought-out user engagement workplan based on the needs of typical key user groups.
It is hoped that this publication will prove a valuable resource for national statistical systems and the organi­zations within them, including national statistics offices, that wish to develop and strengthen their engage­ment with users of official statistics.