ECA Policy Brief - Foreign Currency Mobilisation in Sudan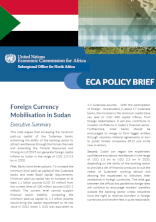 Executive Summary
This note argues that increasing the minimum paid-up capital of the Sudanese banks, enhancing the ability of the banking sector to attract remittances through the formal channels and amending the Mineral Resources and Mining Act of 2015 can generate foreign capital inflows to Sudan in the range of USD 2.5-3.3 bn in 2020.
First: Banks have three options: To increase the minimum (low) paid-up capital of the Sudanese banks and meet Basel capital requirements. Minimum paid-up capital has to increase to at least 1.1 billion pounds (USD 25 million) from the current level of 100 million pounds (USD 2 million). The current level cannot support financial sector stability. Increasing the minimum paid-up capital to 1.1 billion pounds would bring the capital requirement to its real value in 2012 when 1 USD was equivalent to 4.4 Sudanese pounds. With the participation of foreign shareholders in about 17 Sudanese banks, the increase in the minimum capital base can lead to USD 400 capital inflows from foreign stakeholders. It will also contribute to investor confidence in Sudan's financial sector. Furthermore, small banks should be encouraged to merge to form bigger entities through voluntary bilateral agreements or turn to public limited companies (PLC) and invite new investors.
Second: Sudan can regain the expatriates' confidence and attract remittances in the range of USD 1.5 bn to USD 2.3 bn in 2020, depending on the ability of the banking sector to provide a set of financial products to suit the needs of Sudanese' working abroad and allowing the expatriates to withdraw their remittance in foreign currencies. The wide gap between the official and parallel exchange rates will continue to encourage workers' transfers outside the banking sector unless recipients have the right to receives transfers in foreign currencies and transfer fees is quite reasonable.
Third: There is urgent need to revise and expand the Minerals Resources and Mining Act of 2015. Unlike other countries, the current gold mining contracts give the Sudanese government the right to own 10% and buy 20% of extracted gold. If this formula is changed to 50/50, this will generate additional USD 600 million, assuming Sudan exports 90 tone in 2020.