A Case for External Debt Cancellation for Ebola Affected Countries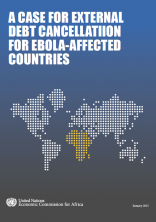 Cancelling the external debt of Guinea, Liberia and Sierra Leone, the three countries hardest
hit by the EBOLA outbreak, will give these countries the breathing space they need to address
the complex social and economic development challenges they now face. In addition to meeting the
challenges of the EBOLA outbreak, these countries need to promote positive economic growth, improve public service delivery, meet regular debt service payments and plan their long-term social and economic development. The setback induced by the EBOLA outbreak complicates these challenges and reinforces the compelling case for debt cancellation.
Based on available data, this appendix presents the external debt situation of Guinea, Liberia and Sierra Leone, makes the case for debt cancellation, and puts forward recommendations on how to use the resulting freed-up funds.