Africa's Blue Economy: A policy handbook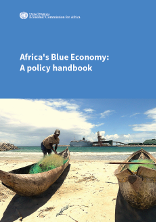 Africa's "Blue world" is made of vast lakes and rivers and an extensive ocean resource base. The Blue Economy can play a major role in Africa's structural transformation, sustainable economic progress, and social development. The largest sectors of the current African aquatic and ocean based economy are fisheries, aquaculture, tourism, transport, ports, coastal mining, and energy.
This Policy Handbook, offers a step by step guide to help African member States to better mainstream the Blue Economy into their national development plans, strategies, policies and laws. The Blue Economy approach is premised in the sustainable use, management and conservation of aquatic and marine ecosystems and associated resources.
Part I: Setting the Scene for Policy Development
Sustainable development and well-being in Africa: Changing the paradigms
Mainstreaming climate change dimensions and environmental sustainability
Legal, regulatory, and institutional framework for the Blue Economy
Part II: Processes and Design Towards an Effective Blue Economy Policy
Part III: Cross-Cutting Issues
Partnerships for transformative Blue Economy actions