1958-2018 | ECA – 60 Years in Step with African Development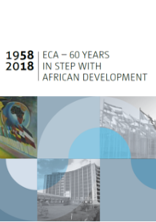 Over the last six decades, there have been many developments on the continent and a shift from a doctrine of political liberation through one of self-determination, to a pan African Economic Agenda uniting all the children of the African soil.
ECA in these six decades has been at the front row seat in Africa's development agenda: from the establishment of the Organization of African Unity to the creation of the African Development Bank and today, the African Agency for Development.
ECA's contribution to the development of long term planning processes at the dawn of Africa's independence; its resolute rejection of the structural adjustments policies; its contribution to Africa's harmonized trade and infrastructure agenda; gender equality; statistical development; the climate debate; and the science innovation and technology agenda has impacted Africans from Cape Town to Cairo and Djibouti to Dakar.
Click here to access the 1958-2018 | ECA – 60 Years in Step with African Development in ePub format