Title
Leveraging Digital Transformation in the post COVID-19 era
The State of African Countries
Monday, November 30, 2020

Monday, 30th November 2020 – 12:30-2pm (GMT+3, Addis Ababa) | 3:30-5am (GMT-5, Washington, DC)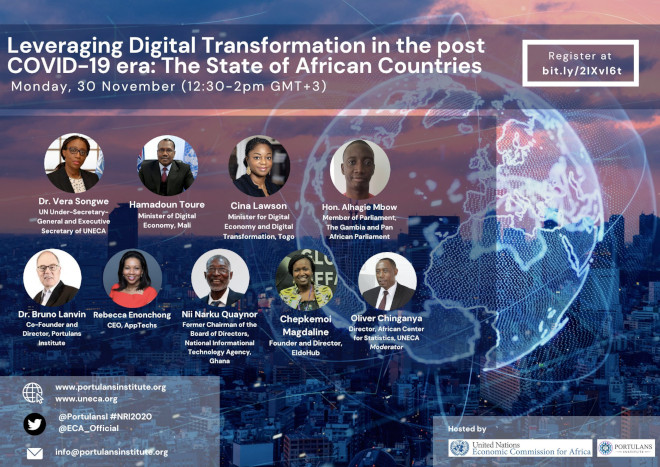 (Click on the image to enlarge)
Register for the zoom webinar 

here

.
Digital technologies have immense potential to transform economic and social interactions and are opening up new possibilities for increased transparency, accountability and citizen participation in policy-making and service delivery. According to the recently released Network Readiness Index report, Africa continues to trail behind other regions, especially when it comes to access, affordability and usage of ICTs. Once the "ripple effect" of COVID starts to hit international trade and investment flows, such divergences between "network-ready economies" and "laggards" may be amplified, the report adds.
Portulans Institute, in partnership with the UN Economic Commission for Africa (UNECA), will host a virtual panel on the Africa region's progress in network readiness and digital transformation. In this panel, Portulans co-founders will present the 2020 Network Readiness Index results, highlighting regional data. This session targets all stakeholders involved in nurturing and building a digital ecosystem, in particular policy makers, development and funding partners, academia, business sector, financial stakeholders, innovation ecosystem stakeholders, academia as well as institutions.
Program and Speakers
12:30-12:50pm: Opening Session
Keynote address by Dr. Vera Songwe, Executive Secretary, UNECA
Presentation of 2020 NRI Results by Dr. Bruno Lanvin, Co-Founder and Director, Portulans
12:50-13:50pm: High-Level Panel Discussion (some speakers TBC)
Moderated by Mr. Oliver Chinganya, Director, African Center for Statistics, UNECA
Ms. Rebecca Enonchong, CEO, AppTechs
Ms. Cina Lawson, Minister of Digital Economy and Telecommunication, Togo
Ms. Chepkemoi Magdaline, Founder and Director, EldoHub
Hon. Alhagie Mbow, Member of Parliament, The Gambia and Pan African Parliament
Mr. Nii Narku Quaynor, Former Chairman of the Board of Directors, National Information Technology Agency, Ghana
Mr. Hamadoun Toure, Minister of Digital Economy, Mali
1:50-2pm: Official Launch of 2020 NRI and Closing Remarks
Dr. Bruno Lanvin, Co-Founder and Director, Portulans Institute.
Dr. Vera Songwe, Executive Secretary, UNECA
Join the conversation!
Join the conversation on Twitter at #NRI2020 @PortulansI and @ECA_OFFICIAL. In advance of this event, hear from global thought leaders about digital transformation and COVID-19 in Portulans' Dialogue on Digital Transformation series.


---