Title
Launch of Assessing Regional Integration in Africa (ARIA) VII
Innovation, Competitiveness and Regional Integration
ARIA VII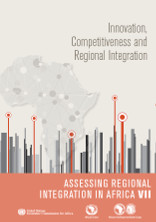 Assessing Regional Integration in Africa VII
Innovation, Competitiveness and Regional Integration
Background

The seventh edition of the report Assessing Regional Integration in Africa (ARIA) examines the nexus between regional integration, innovation and competitiveness.
ARIA sheds light on innovation and competitiveness in the broader context of development policy and strategy in Africa. It makes the point that innovation is not optional if Africa is to achieve structural transformation.
The report makes recommendations on investment in human capital and the need for an integrated approach to intellectual property.
The launch on 02 April 2016 from 10h30-12h15 at the Large Briefing Room, is open to all delegates.
Opening and closing remarks by the internationally acclaimed journalist and Editor of African Business, Mr. Lanre Akinola.
Panellists include Dr. Sidi Ould Tah, the Director General of the Arab Bank for Economic Development of Africa, Mr. Tetteh Hormeku, Head of Programmes at Third World Network-Africa's Secretariat;   Mr. Dominique Njinkeu , a former Lead Trade Facilitation Expert and the Program Coordinator of the Trade Facilitation Facility (TFF) at the International Trade Department of the World Bank; Prof. Simon Roberts,  Professor of Economics & Executive Director of the  Centre for Competition, Regulation and Economic Development at the  University of Johannesburg, South Africa and Mr. S Kuppuswamy,  Representative of the Confederation of Indian Industry and  Director of the Shapoorji & Pallonji Group.
The Chairperson of the African Union Commission, Dr. Dlamini Zuma, the Economic Commission for Africa's Executive Secretary, Mr. Lopes and the President of the African Development Bank, Mr. Adesina will also attend the launch.
For further information contact:
William Davis. wdavis@uneca.org . +251115443253+251115443253. Mobile: +251938036033
David Luke. dluke@uneca.org.